Jethro's Story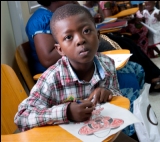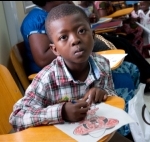 Just before the team from Boston Children's Hospital, an affiliate of Harvard University, left for Ghana in October of this year, Children's Lifeline received a plea from a child's father:
"Please accept my congratulations for the many lives you have saved this far. I have just been informed 2 days ago by my wife who lives in Cape Coast, Ghana with my 2 sons that the elder son (Jethro) who is 6 years old has been diagnosed with Tetralogy of Fallot and this will have to be fixed through open heart surgery. Honestly, we cannot afford to pay for this surgery and would be grateful if you could come to our aid and help us."
A three way dialogue commenced between Jethro's father, our Lifeline office and the mission leader, Dr. Francis Fynn-Thompson. Lifeline confirmed with Dr. Fynn-Thompson that the child would be evaluated for surgery in Kumasi, about a three hour bus ride from Cape Coast.
Jethro's condition was updated through Susan Mullins, a lifeline team member who emailed: "Our team has decided that Jethro is a good candidate for surgery and will be our first case in the morning." Jethro was diagnosed with Valvar Pulmonary Defect (VSD). Later she wrote: "Jethro had a successful surgery and is doing well." The surgery consisted of putting a Dacron patch over a hole between the left and right ventricle of his heart.
Shortly after the team returned, Lifeline received the following heartfelt message from Jethro's mother: "I am just writing to once again say thank you to you all for the wonderful job done last week. Thank you for allowing yourselves to be used by God to save the lives of our little ones. We really appreciate your good works and it is our prayer that you all shall be healthy and strong to continue this marvelous work.  Jethro is doing very well and recovering steadily. Still coloring some of the pictures and telling his brother about you guys. Our simple message is 'THANK YOU' for everything. Our daddy also sends his regards to you." Her thank you extends to all of you who support Lifeline's work. Jethro is just one of many children who are given lifesaving surgery through your caring generosity. To read more about our Ghana Mission, see page 4.