January – Cambodia: Children's Lifeline / Cambodia: Rady Children's Hospital / University of California San Diego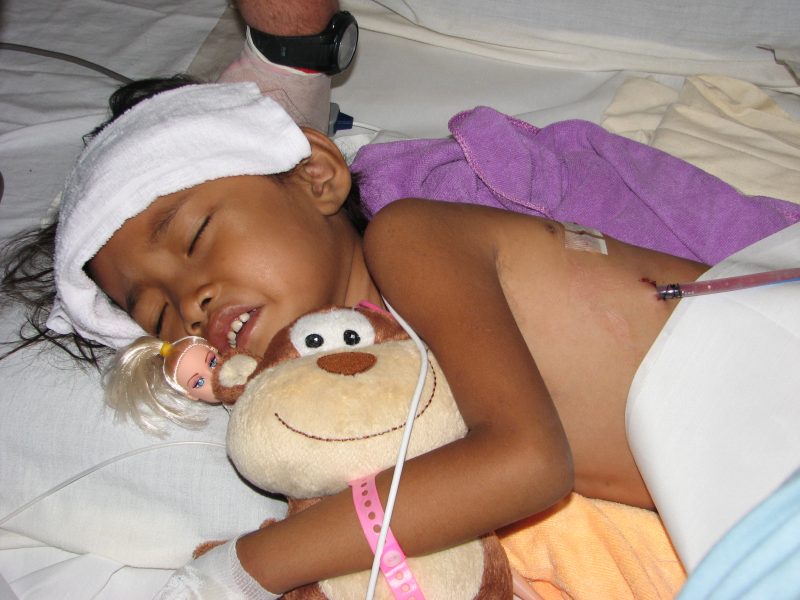 Angkor Hospital for Children, Angkor, Cambodia
Angkor Hospital for Children (AHC) serves approximately 120,000 children a year. Through its missions, Lifeline's cardiac team from San Diego has been treating and teaching at AHC since 2007.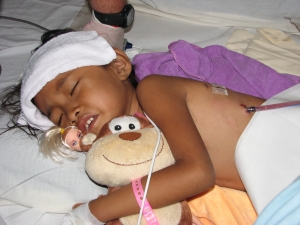 When the hospital opened in 1999, there was a backlog of over 200 children in need of cardiac catheterizations. Each year, the Lifeline team performed surgeries and taught the local doctors the procedures. The Hospital's senior surgeon at AHC has now performed over 250 PDA ligations. The backlog has been eliminated. Dr. Vuthy (AHC) said, "I'm now able to close holes in peoples' hearts and I am learning more and more about complex surgeries. It is an honor and I am proud to be able to help the patients that can't afford to pay." The Missions can at this time, perform the more challenging surgeries and teach open heart procedures.
Doctor Paul Grossfeld led his 6th mission to Seim Reap, Cambodia in January, 2012. His volunteer team consisted of members of Rady Children's Hospital and UCSD Medical Center. This year, the San Diego team was joined by Doctor Mitchell – Children's Hospital of Wisconsin. Once again, Dr. Grossfeld's wife, Susan did an outstanding job as Mission Coordinator for the Pediatric Cardiology and Cardiothoracic Surgical Team. The prospective children received preoperative examinations and were evaluated to see if they were candidates for the surgical procedures. Twenty children were screened and a total of fifteen children were eligible to receive cardiovascular surgeries. Of the fifteen children, six received open heart surgeries – 2 ASD repairs (Atrial Septal Defect) and 4 VSD repairs (Ventricular Septal Defect). This year, Angkor Hospital received a donation of their first heart/lung machine. This machine made it possible for the Children's Lifeline team to perform and teach open heart surgeries and procedures at AHC.
~ 4 Weeks Later ~
In February, a friend and supporter of Children's Lifeline – Fiona Tudor, traveled to Cambodia four weeks after our medical teams'departure. Fiona was able to visit with seven of the children who had cardiac surgery. Her trip to the back country was somewhat harrowing and memorable. She spoke of the narrow dirt roads she travelled without addresses and with only photos, she located seven families. "What a great thing to see," Fiona stated, it had only been four weeks and all of the children were doing well. Fiona was accompanied by Dr. Luy Lyda and at each and every home they were welcomed as family. They had the opportunity to visit with the children bringing them paper and crayons and watching them play. As the news spread, and it would always spread quickly, the extended family and friends came to share the visit and hear the stories.
– Mission Accomplished –